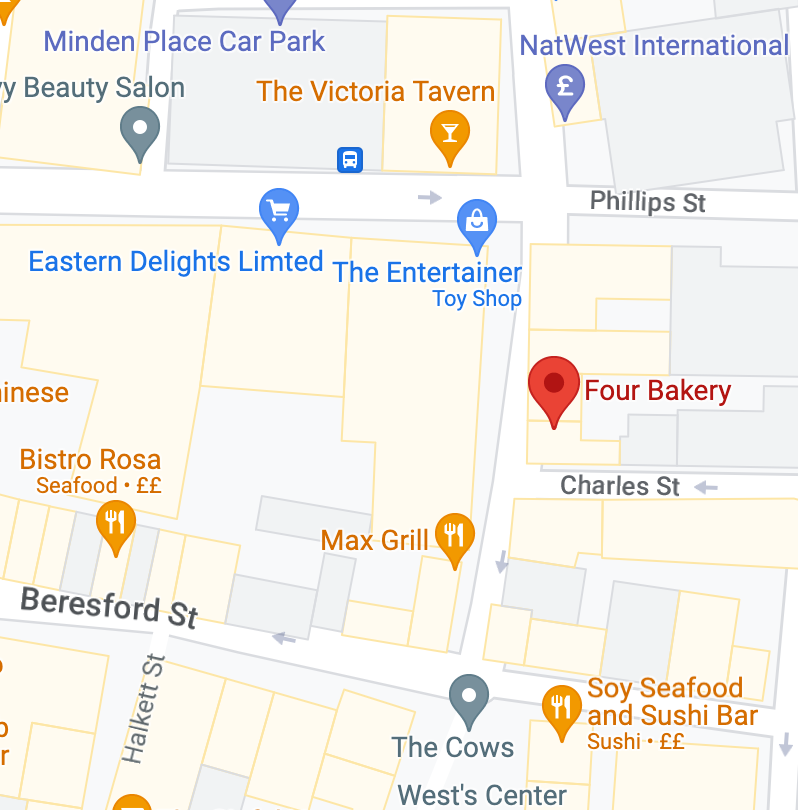 Where is Four Bakery?
Four Bakery is a traditional artisan bakery on Bath Street in the heart of St. Helier, Jersey (opposite the Le Gallais building).
Address:
53-55 Bath Street,
St. Helier, Jersey
JE2 4SU
Opening hours

Monday: Closed
Tuesday to Friday: 8am to 2pm
Saturdays: 8:30am to 3:30pm
Sunday: Closed

Contact Us

General enquires: hello@fourbakery.com

Orders: orders@fourbakery.com

Phone: +44 1534 611979
What You'll Find in the Shop
Jersey Sea Salt

Harvested ecologically from the pristine waters of the Channel Islands, Jersey Sea Salt is pure, unrefined and packed with minerals. Find a range of flavours to try.

Triple Co Roast Coffee

This specialty coffee from Bristol is ethically sourced, void of bitterness and used by our barista to make delicious coffees.

Chilli Kitchen

A selection of flavourful chutneys, relishes, sauces, oils and more made by local Lesley out of her own home kitchen on the outskirts of St.Helier. 
Our Bakes

Browse our collections, including laoves, savouries, vienoisseries, brownies and more.

Discover Them

Our Stockists

Our Bath Street bakery isn't the only place you can buy our goods. Discover where else we're stocked.

Find Out

Stock Four Yourself

Do you own a business that would benefit from freshly stocked baked goods? Get in touch!

Read More