It's said that the baguette originates from the days of the Napoleonic wars. French loaves were round and difficult to carry, so Napoleon ordered bakers to make long, thin loaves to allow soldiers to stuff them down their trousers! Luckily, this isn't a requirement to buy our baguettes – simply enjoy the crunchy crust and pillowy middle as a sandwich, dipping bread or as a cheese and charcuterie accompaniment. 
Our baguettes are made using Chelmer White flour – an organic grain flour from the W & H Marriage & Sons mill in Chelmsford. The Marriages family-owned mill has been producing superior quality flour since 1824. As the closest thing to 00 flour we could find in the UK, the finely ground Chelmer White is perfect for our baguettes.   
Weight: 300g.

Starter: Wild Jersey yeast, water, Wildfarmed flour.

Flour: Chelmer White.

Water: Double filtered.

Salt: Jersey Sea Salt.
While we aim to be consistent with our baking, your loaf might look slightly different to what's pictured.
View full details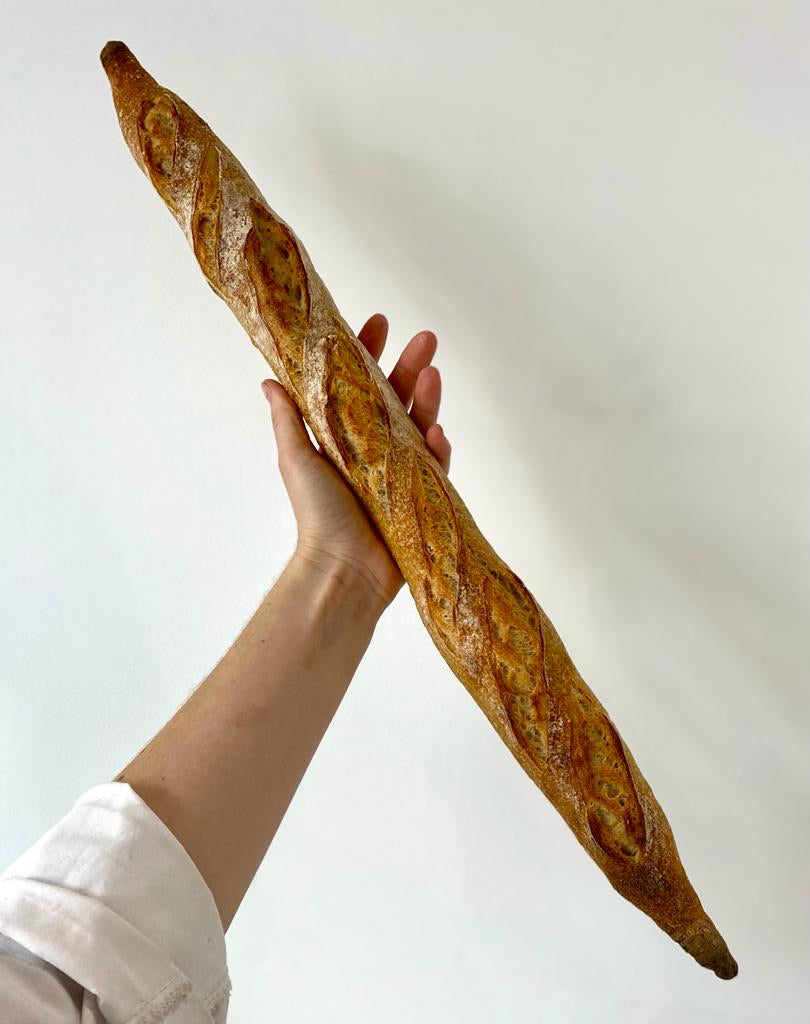 Ingredients
Four Bakery uses zero additives in food production. However, most mills must fortify flour in accordance with the law.
Ingredients with allergens in bold: Fortified wheat flour (wheat flour, iron, niacin, thiamine, calcium carbonate), filtered water & sea salt.
All our products are handcrafted in a kitchen which uses cereals containing gluten, eggs, milk, nuts, soy, sulphur dioxide, celery, anchovies and sesame seeds.                                                           
May contain small traces of peanuts and lupins as we cannot rule out cross-contamination by suppliers.